Investigations on silo models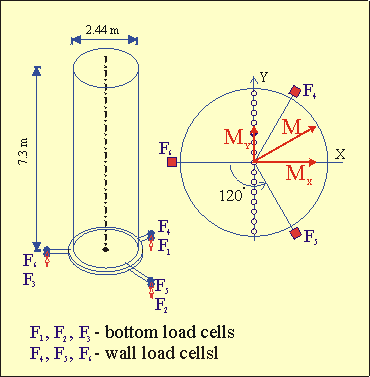 Investigations on model silos have been conducted in the Granular Mechanics Laboratory of the Department of Biosystems and Agricultural Engineering at the University of Kentucky, USA. The majority of tests were performed on smooth and corrugated-walled model silos 2.4 m in diameter and 7.3 m high.
The wall and floor of the silo were each supported independently on three load cells to isolate the wall and floor loads. Such an experimental configuration allowed for determination of vertical wall and floor loads, and of the resultant moment exerted by grain on the wall and floor of the silo. Moment of force was a global measure of the asymmetry of pressure distribution. The silos were filled to a height to diameter ratio (H/D) of 2.75 for each test, except for tests with non-axial filling. The wall loads were compared for: centric and eccentric filling, centric and eccentric unloading and unloading through the wall flume.
Molenda M., Montross M.D., Horabik J.: Non-Axial Stress State in a Model Silo Generated by Eccentric Filling and Internal Inserts. Particle & Particle System Characterization, 24, 291-295, 2007.
Molenda M., Montross M.D., Thompson S.A., Horabik J.: Asymmetry of Model Bin Wall Loads and Lateral Pressure Induced from Two- and Three-Dimensional Obstructions Attached to the Wall of a Model Bin. Transactions of the ASABE, Vol. 52(1), 225-233, 2009.
Rusinek R., Molenda M., Horabik J.: Performance of membrane pressure transducers in granular materials of various particle sizes. Powder Technology, Vol. 190, 410-414, 2009.